Pipe Bending Services for Pipe Components
Our pipe bending & fabricating service is a cold machining technics for making pipe / tube products, such as trolly handles & frames,chair brackets & backrest, Bathroom pipe faucet, Safe handrails in sports places, Horticultural accessories.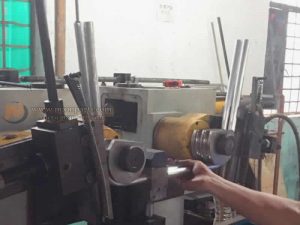 That means all material should be in structure of pipe, then machining by pressing machines (pipe bender) to different flexual figures,and most pipe products need drill holes,pipe necking & expending, oblique cutting,etc.
Generally pipes still need to be polished and surface treatment after machined, such as painting, powder coating, chrome plating,chemical polishing,anodizing.
We specialize in pipe(tube) bent & fabricated products many years, can produce curved pipes from aluminum pipe, stainless steel pipe, carbon steel. if you want custom tube bending fittings from China, welcome send inquiry to us.