ISO Certificates updated
June 19, 2020 22 views
Ningbo Dalilai Machinery Manufacturing Co., Ltd is Our main plant located in Ningbo City, China. we are the same factory, because China is a foreign exchange controling Country,and we have no export right,generally export our goods via 3rd party ( export agent company). Ming Xiao Mfg was registered in Hongkong in year 2010, for working foreign business and collect the USD dollars(control money by ourself).
Our main Business is custom metal parts and plastic parts by CNC turning, Metal Stamping, Sheet metal fabricating,Pipe/tube bending & fabriating,also
oursourcing CNC machining for old clients.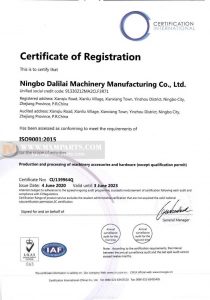 Welcome contact with us to discuss your project!